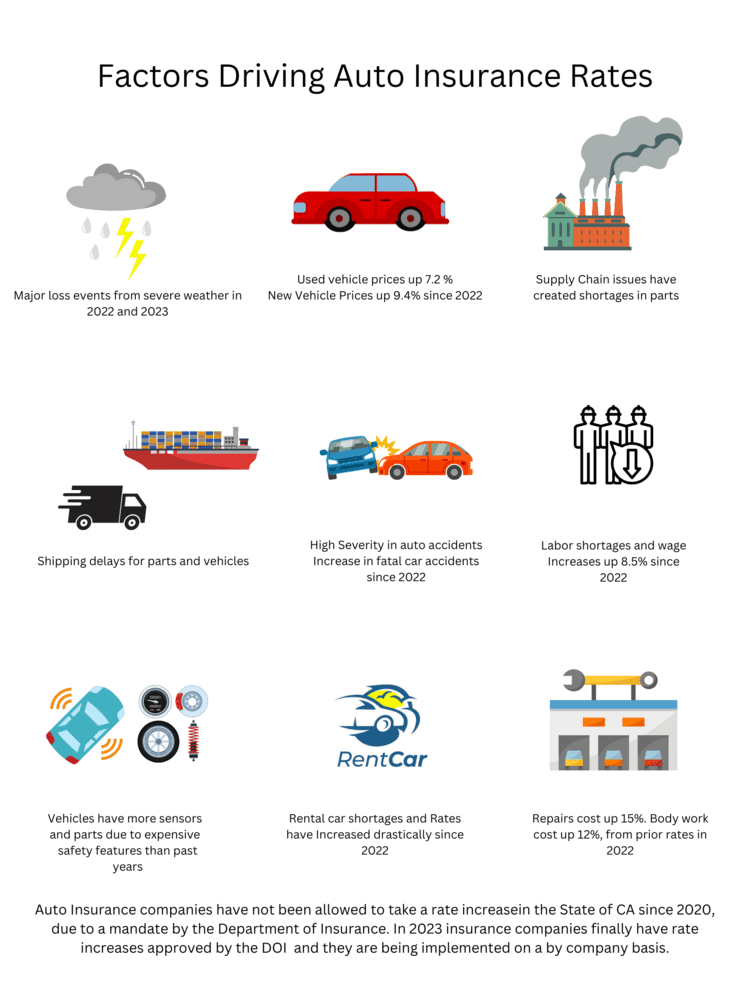 We get a lot of questions about changes to auto insurance rates every year, and this year is no exception. Many people in California have seen their auto insurance rates increase this year, and it's hard to know why by just looking at your renewal statement. There are several factors that have contributed to the rising cost of car insurance:
Major loss events from severe weather in 2022 and 2023
Used vehicle prices are up 7.2% since 2022
New vehicle prices are up 9.4% since 2022
Supply chain issues have created shortages in parts
Shipping delays for parts and vehicles
Higher severity in auto accidents, including an increase in fatal car crashes since 2022
Labor shortages and wage increases up 8.5% since 2022.
New vehicles have more safety features that require more expensive repairs to sensors and technology than in past years
Rental car shortages and rates have increased drastically since 2022.
Repair costs in general are up 15%, and body work repair costs are up 12% from 2022.
In addition, California auto insurance companies have not been allowed to take a rate increase in the state of California since 2020 due to a mandate by the Department of Insurance. In 2023, insurance companies finally have rate increases approved by the DOI and are being implemented on a by-company basis.
All of these factors combined have put upward pressure on auto insurance rates in California.
We are here to answer any questions you have! If you receive your renewal and would like to discuss your policy and a rate increase, please give us a call!